LEADERSHIP AND MANAGEMENT
Pradeep Khandekar
Managing Director
Mr. Pradeep Khandekar holds dynamic personality, highly qualified & highly energetic, positive & constructed approaches made him youngest Managing Director in Beldara.com. He previously engaged in various sectors such as Information Technology, E-commerce, and Construction, across Indian & overseas.
Mr. Khandekar is a technology specialist with over one and a half decade of IT industries. He was associated with RupeeBoss.com as CTO, VP Engineering at Nykaa.com, AGM at BookMyShow.com and UFO Moviez India Ltd. After successfully running the technology part, Mr. Khandekar has entered into the B2B marketplace in the name of Beldara.com. He is a determined professional towards its mission through setting up a world largest B2B marketplace, Headquarter in India with Overseas offices in USA, and China. He has a clear vision to see Beldara.com amongst the largest Indian company in the world by 2022 and to create values in its quality services and its positive value created for its associates & stakeholders.
Pradeep is a true leader who initiates every change at Beldara.com thanks to his thorough knowledge and understanding of the e-commerce world!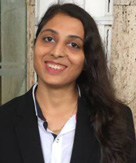 Miss Bijal Shah, aged 27, is the AGM - Accounts & HR of Khandekar Group. She holds a Bachelor's degree in Commerce from University of Mumbai. Prior to Join our Company, she was associated with Computer Institute as a Trainer of Tally.
Mr. Krishna Bhikaji Sawant, aged 35, is the Operation Head of Khandekar Group. He holds a bachelor of business administration (BBA) degree in marketing. He works digital marketing (SEO) and Web design and development with 14 years of experience in these fields. He was previously associated with Sarathi Software Pvt Ltd, UFO Moviez, Valuable Group Technologies and Rhythm Tech. At Khandekar Group, he is responsible for Operation Head for the various Khandekar Group initiatives.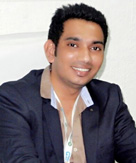 Sachin Shelke
Marketing Head
Mr. Sachin Baban Shelke, aged 27, is the Marketing Head of Khandekar Group. He holds a Bachelor's degree in Commerce and a Master's degree in Bachelor of Laws from the University of Mumbai. Prior to setting up our Company, he was associated with Nisa Group of Company, Poonam Traders and Croda Cemicals Pvt Ltd in Varies Posts. He is also Handling so Many Projects In Khandekar Group.